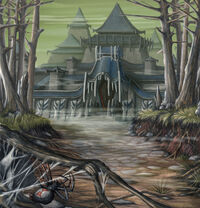 The Black Silk Castle was a castle in Shinomen Mori where Daigotsu directed his Spider Clan. The name was meant to be a reflection of the manner in which the Spider were planning to infiltrate the Empire, like the strands of spiderwebs. [1]
After the establishment of the Spider Clan they needed a base which could readily stage incursions within the Empire. Bakemono and other Shadowlands creatures worked under the orders of a Lost Kaiu Engineer to build Black Silk Castle deep within the Shinomen Forest, made of black stone, obsidian, blackstained wood, and so forth. Furniture and decoration were also black. [2]
Daigotsu's court
Edit
Black Silk Castle was hidden deep within the Shinomen Forest and it had became the one location that Daigotsu prefered use when dealing with normal courtly activities. It was built with a traditional main court chamber decorated in black silk, complete with dais and throne. The castle had a secret tunnel underneath the walls to serve as a strategic retreat route. [1]
The castle was burned to the ground [3] in 1170 during the burning of the Shinomen Mori ordered by Daigotsu to cover the Spider escape. [4]
External Links
Edit
References
Community content is available under
CC-BY-SA
unless otherwise noted.