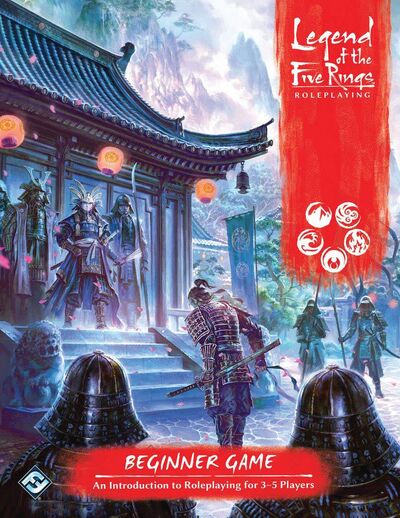 Beginner Game is a supplement for the Fifth Edition of the Legend of the Five Rings roleplaying game, under Fantasy Flight Games, intended to give newbies and veterans alike the perfect door to the Emerald Empire. It included four in-depth character folios, an Adventure Book, a set of custom dice, a map of Rokugan, a variety of tokens, and a Rulebook.
Game Design and Development: Max Brooke, Tim Huckelbery, and Katrina Ostrander
Writing & Additional Development: Daniel Lovat Clark
Proffreading: Molly Golver, Jeremiah J. Shaw, and John Shortino
Managing RPG Producer: Sam Stewart
Graphic Design: Michael Silsby with Chris Beck
Graphic Design Manager: Christopher Hosch
Cover Art: Mathias Kollros
Interior Art: Sheila Amajida, Noah Bradley, Francesca Baerald, Stefano Baldo, Lukas Banas, Stu Barnes, Mauro Dal Bo, Mike Caprotti, Senfeng Chen, Calvin Chua, Caravan Studio, Conceptopolis, Stanislav Dikolenko, Shen Fei, Felipe Gaona, Kevin Goeke, Gong Studios, Andy Hepworth, Jeff Himmelman, Hai Hoang, David Horne, Lin Hsiang, Amélie Hutt, Diego Gisbert Llorens, Diana Martínez, Joyce Maureira, Niten, Chris Ostrowski, Borja Pindado, Ben Peck, Jeff Porter, Chris Pritchard, Oscar Römer, Doug Shuler, Yudong Shen, Adam Schumpert, Fajareka Setiawan, Filip Storch, Shawn Ignatius Tan, Wisnu Tan, Tropa Entertainment, Charles Urbach, Magali Villeneuve, and Mario Wibisono
Art Director: Crystal Chang and Andy Christensen
Managing Art Director: Melissa Shetler
Quality Assurance Coordinator: Zack Tewalthomas
Production Management: Jason Beaudoin and Megan Duehn
Visual Creative Director: Brian Schomburg
Senior Project Manager: John Franz-Wichlacz
Senior Manager of Project Development: Chris Gerber
Executive Game Designer: Corey Konieczka
Publisher: Andrew Navarro
Playtesters: Steven Charpentier, Bruce Cottingham, Sidney Delp, Stef Donné, Davy Emmaneel, Candice Green, Chris Green, David Green, Matthew Harkrader, Tommi Harlin Sterling Hershey, Jon King, Kevin Kloek, Gino Lambregts, Karl Langley, Alastair Logan, Michael Lory, Crystal Newbury, Tom Ornsby, Rob Quillen, Siobhan Robson, Dan Roper, Rico Saucedo, David Stonecipher, Erik Strijbos, Max Stringer, Nathan Stringer, Wouter Van der Bergh, Aaron Van den Eynde, Joris Van der Vorst, Will Vaughn, Timo Viitanen, and Kris Weavill
Contents
Edit
Credits (page 2)
Edit
Welcome to the Legend of the Five Rings Beginner Game! (page 3)
Edit
Contents of this Box (page 3)
Edit
The "Read This First" Booklet
The Adventure Book
Character Folios
The Rulebook
Character Tokens
Map
Custom Dice
You Will Also Need
Community content is available under
CC-BY-SA
unless otherwise noted.