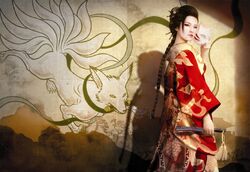 Bayushi Misaki was a Tamamo-no-Mae courtier of the Scorpion Clan.
Paneki's Disgrace
[
]
Misaki was sent by Bayushi Nitoshi to the Crab lands, to find clues about the location of Paneki's Disgrace. She used her beauty and charm to get secrets in the bedchambers of relevant Kuni. In 1198 Misaki had discovered where the creature was, but she did not say to her lord, because she believed there was no need for him to find that out yet. [1]
P'an Ku's Madness
[
]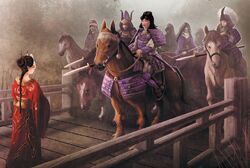 During the incidents that happened during P'an Ku's madness in the Colonies in 1199, Misaki was defeated and spared by the Battle Maiden Utaku Sung-Ki. [2] The Utaku questioned her about the actual location of the thing called "Kaiji". [3] Misaki in turn defeated and killed Ikoma Shizuka. [4]
External Links
[
]
References