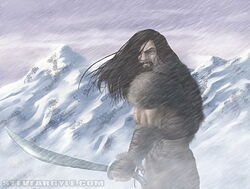 Battul was the chieftan of the Yobanjin and a Wyrm rider during the Dawn of the Empire. He and his tribe refused to bow to the Kami when they came to what would eventually become Rokugan. The Yobanjin did not join a clan and Battul claimed they were spared by Hantei when the Kami realized he could not overcome them. Before the First Day of Thunder, Shinjo sent Ide and Shinjo Bairezu to offer Battul the opportunity to swear fealty to her so that they would have protection from Fu Leng, should he come to them. Battul refused, confident in his ability to defend his people and wary of joining someone he thought might go mad, as Fu Leng had. [1]
"You Rokugani. So very clever. So civilized."
-Battul
References
Community content is available under
CC-BY-SA
unless otherwise noted.